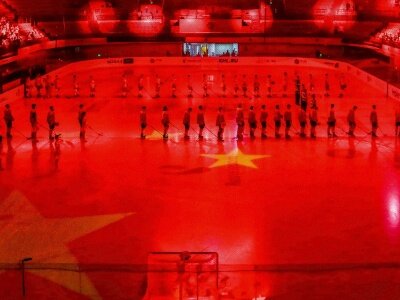 Hellberg denies, Brule delivers
Source: Club Press-Office
16.09.2017

Kunlun Red Star 2 Vityaz Podolsk 0

Two shut-outs on the spin and another goal for Gilbert Brule helped us to a 2-0 win over Vityaz. Not only did that victory ensure that Red Star's four-game stand in Shanghai ended on a triumphant note, it also lifted the team to the top of the Eastern Conference. Kunlun's bright start to the season gives the Dragons a better record than the likes of Ak Bars, Salavat Yulaev, Avangard and Metallurg Magnitogorsk – no small achievement for a roster that is still getting to know its best combinations.

One player who has really added to the team in the short time he has spent in China is Gilbert Brule. Once ranked second only to Sid Crosby as he emerged as a youngster with the Vancouver Giants, Brule's career has taken him on a tour of hockey cities on both sides of the Atlantic: Columbus, Edmonton, Phoenix in the NHL, Zurich in Europe and then Yekaterinburg, Zagreb, Nizhnekamsk and Chelyabinsk in the KHL. Now he's making a reputation for himself in China, and his opening goal in Friday's game was his third in four games for Kunlun.

This one was a vicious wrist-shot, wired in from between the hash marks off a Wojtek Wolski feed. It opened the scoring in the ninth minute of an opening period that Kunlun dominated. In truth, a one-goal lead at the first intermission felt like a slightly disappointing return after comprehensively outshooting Vityaz: already this season, we've seen enough fightbacks to understand that creating chances means little without putting the puck in the net.

In the second period, almost inevitably, Vityaz upped its game. Valery Belov's team fired in 20 shots on Magnus Hellberg's net, but found our Swedish stopper in sublime form. The counter-punch came from the home team, Joonas Jarvinen's shot was blocked but only as far as Zach Yuen, who made it 2-0. That was Zach's first goal of the season, and a rare connection between two players who were with the club in its debut KHL season.

Now the pressure intensified. If Vityaz looked more potent in the middle stanza, the finale was one-way traffic. The visitor bossed the shot count 14-1, but Hellberg was equal to the onslaught. He finished the game with 42 saves and more than 120 minutes without giving up a goal. Having spent the previous two seasons at the Rangers, as part of a goaltending cohort headed by the legendary Henrik Lundqvist, our summer recruit is clearly relishing the challenge of establishing himself as #1 – and showing the same kind of game-winning form that helped his former team-mate backstop Sweden to World Championship gold in Cologne back in May.

So, after four home games, the signs are promising. Attendances in Shanghai are well up on last season, suggesting that the Chinese hockey audience is growing as we hoped. Results are promising, too, with the team showing signs of being a genuine competitor in the Eastern Conference this season. And our new-look roster is settling down nicely to provide a formidable obstacle for any opponent.

Next up, it's a trip to Nizhny Novgorod on Tuesday to face Torpedo at the start of another four-game road trip.

Official game sheet