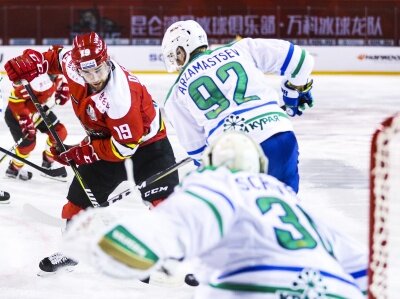 Late strike breaks Red Star hearts
Source: Club Press-Office
03.11.2017

Kunlun Red Star 2 Salavat Yulaev Ufa 3

A last-minute goal from Ilya Zubov denied Red Star at least a share of the points at home to Salavat Yulaev after another game that could have been very different.

Not for the first time this season, an opposing goalie made all the difference, with Ben Scrivens repelling 37 of the 39 shots he faced. Gilbert Brule's double salvo was the only way we got past him on the night, and Zubov's late show proved that it wasn't quite enough on this occasion.

Red Star outshot the opposition 39-24 and, when Brule's second of the game tied it up inside the final three minutes, it felt like justice would be done and the momentum would – at last – turn the game in our favor. However, that hope was squashed in the dying seconds; another day of disappointment and another sense that the result did not truly reflect the performance.

Brule, with two goals, was the brightest light for Kunlun. His opener was a poacher's effort: Scrivens made a mess of dealing with Pavel Vorobei's dump-and-chase, Brule swatted down the puck and shot into the unguarded net to cancel out Igor Makarov's first-period opener for the visitor. Then, late in the game, he got his second from close range after Vorobei's slap shot got tangled up in Zakhar Arzamastsev's skates. The first came on the power play, the second went in as Salavat was bringing an extra player back into the action following a penalty.

There were other tests for Scrivens, including a notable reflex save from Brandon DeFazio early in the third, but this was a day when fortune was against us. Salavat Yulaev was more clinical when it had chances and finally claimed the win on a late power play. Zubov orchestrated the play from the blue line and, after his first shot was saved, collected Linus Omark's pass to smash home the decisive effort. Our bench queried whether Enver Lisin, standing in front of Magnus Hellberg and screening our goalie's view of the shot, had encroached onto the paintwork and impeded the netminder; the officials quickly concluded there was no case to answer.

Thus, a game that began with hopes of overhauling Salavat Yulaev and climbing to sixth in the Eastern Conference ended in defeat and a drop out of the playoff places following Traktor's win at Avtomobilist. The next action for our team comes on Saturday, with a home game against HC Sochi, then there's a break for the November international action.

Official game sheet