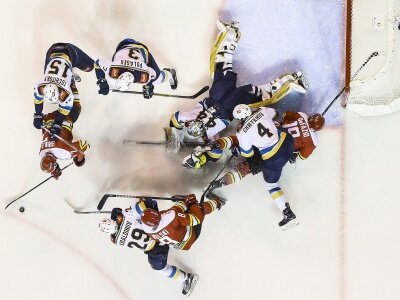 Big fightback ends in vain
Source: Club Press-Office
04.11.2017

Kunlun Red Star 3 HC Sochi 4

Another defeat, and another hard loss to take. This game highlighted some of the best and worst of Red Star's play this season … and despite a stirring comeback, it ended in a narrow victory for our visitor.

The first half of the encounter, admittedly, was forgettable. From the moment Casey Wellman opened the scoring in the second minute – assisted by our old friend Sean Collins – to the third Sochi goal in the 30th, Kunlun's game was rather lackluster. It wasn't exactly a complete failure, with our offense creating chances around the Sochi net, but it lacked the 'bite' needed to really get into the game.

How quickly that changed, though. In the last minute of the second period, the Vorobei-Brule axis that served so well against Salavat Yulaev got back into business. Pavel Vorobei hovered menacingly around the point, threatening to shoot before picking up on Gilbert Brule's intelligent move to the left-hand circle. With the Sochi defense pulled out of shape, a shooting lane opened up and Brule made no mistake to fire home his third goal in two games.

Brule then turned provider early in the second period as Red Star grabbed a second power play goal to bring it back to a one-goal game. Brandon DeFazio found Brule behind the net, the puck went back to Andreas Thuresson and his shot was deflected for DeFazio to finish off. Now there was real hope, and soon that would be transformed into genuine confidence that we could get a result. In the 49th minute, Lucas Lessio led a breakout down the left and fed Brandon Yip. Yip's shot was saved, but Lessio came right around the net to put away the rebound and tie the game.

More than 10 minutes to play, and it was game on. Moreover, the momentum had swung firmly in Red Star's favor. The stage was set for someone to make himself a hero and win it all in the closing stages. Unfortunately, though, those heroics came from men in white jerseys. Pavel Padakin's feed to the far post saw Andrei Ivanov nip in to snaffle the loose puck from the attentions of Vorobei and Magnus Hellberg to make it 4-3 to Sochi with five to play.

A penalty call on the visitor's Evgeny Lapenkov offered hope of another comeback, but this time the advantage did not accrue and Sochi played out the remaining time to secure a narrow victory.

The season pauses now, with a break until November 14 and a home game against Dynamo Moscow. During that break, several of our players will be off to the Karjala Cup, hoping to stake their claim to a place at February's Olympic Games in Korea. The international competition in Finland runs from Nov. 8-12.

Official game sheet