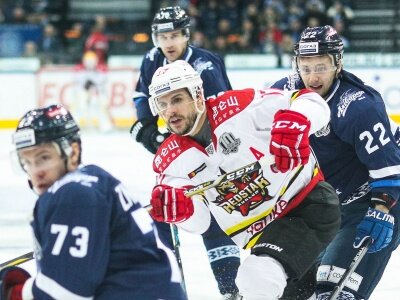 Olympians in waiting make the difference
Source: Club Press-Office
19.01.2018

Dinamo Minsk 1 Kunlun Red Star 3

Red Star's trip to Belarus ended in victory thanks to two goals in 40 seconds late in the third period – and once again, the club's two Olympic stars made the difference. Gilbert Brule impressed on offense, posting a goal and an assist to lift the team beyond Dinamo, while goalie Magnus Hellberg made another 47 saves to underline his call-up for Team Sweden in PyeongChang.

Hellberg was at his best in the third period as Dinamo swarmed forward in a bid to claw back a 1-3 deficit. Fans with longer memories may recall how the first Kunlun visit to Minsk saw our team do just that, mounting a dramatic late fightback to take an unlikely win last season. Hellberg, although not involved in that game, ensured that Dinamo did not benefit from any mirror image of the recovery this time around.

Long before that, though, Brule opened the scoring in the fourth minute, converting Red Star's first power play chance of the evening to get us off to a great start in a lively game.

That lead could have been greater, especially early in the second period when Jhonas Enroth found himself working hard to keep his team in the game. The Swede, who will also be part of the same Olympic roster as Hellberg, made two smart stops in succession to deny Brendan O'Donnell and Cory Kane, then denied Brule a second. But there was danger at the other end as well, with Quinton Howden threatening to tie the scores on a breakaway before Justin Fontain finally did just that on a delayed penalty late in the session.

Red Star hit back immediately. Kane got the go-ahead goal, finishing from close range after Pavel Vorobei's shot from the point was blocked, and Brandon Yip's attempt from the rebound dropped kindly for Kane to follow up. For Vorobei, a talented young Belarusian defenseman who never found his way into the KHL with Dinamo Minsk, the assist was a handy reminder of what his local club could have had.

Then, just 38 seconds later, the lead doubled. Kyle Chipchura found the net for the second game running, and once again Brule was involved. Our Canadian Olympian added to his first-period goal with the helper on this one, slinging a pass from deep inside his own territory onto Chipchura's stick and converting defense into offense at a single stroke. Up close with Jhonas Enroth, Chipchura had no difficulty finishing off the chance and, with it, the scoring for the night.

The final frame saw Hellberg frustrate a busy Minsk offense as the home team battled hard to find a way back into a game it had to win to keep its playoff prospects from fading. Our Swede made 17 saves in the third period, and found almost all of the play was at his end of the ice as the home team battled in vain to salvage something from the game.

Official game sheet