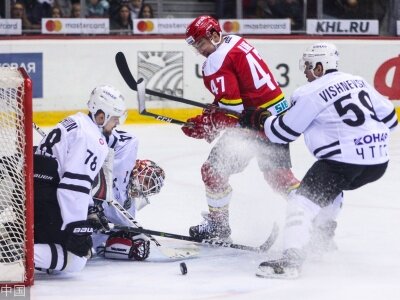 Нome and away
Source: Club Press-Office
19.10.2017

Kunlun Red Star 2 Traktor Chelyabinsk 3 SO

In years to come, this might be a handy little trivia question: in which Russian city has Red Star played a home game? Although the fixture list had us as host for this match-up with Traktor, the game took place in Chelyabinsk. Why? Well, that's a long story, to do with conflicting demands on our building in Shanghai and the need to rearrange this fixture in a hurry. Moving the whole thing to Chelyabinsk a couple of weeks after the game was originally scheduled for China wasn't an ideal solution, but it was the least worst of the alternatives on offer.

The game also built neatly on to the end of our road trip, and gave us a chance to maintain the momentum we garnered from Monday's 3-0 success at Sibir. Rather than face a long wait to return to action on Saturday, our guys had the chance to get out there right away and keep picking up points for those all-important league rankings. And, if we have to play a home game in Russia, Chelyabinsk – home of our Ural-based fan group – is hardly the worst city to do it. Maybe it's not a full-on home crowd, but it's some local support to call on as we go.

Admittedly, the early stages didn't work out as planned. Traktor earned the first power play of the game and duly took the lead in the ninth minute thanks to Alexander Rybakov's wrist shot. The oddity of lining up on the visitor's bench did not seem to be taking a toll on Traktor at this stage, but Red Star soon hit back.

Wojtek Wolski got the tying goal, only a couple of minutes after we fell behind. Gilbert Brule and Andrei Kostitsyn set up a melee in front of Vasily Demchenko's net; Wolski was on the spot to stuff the puck home. Barely two minutes later, and Red Star was in front. This one was a triumph of persistence. Pavel Vorobei thumped in a shot, Demchenko blocked it. Kyle Chipchura had two swings at it, Demchenko got in the way on both occasions. Alexei Ponikarovsky saw another effort saved before forcing the rebound home. That goal won't win any beauty contests, but it was enough to put the team 2-1 up.

For much of the rest of the game, Kunlun looked the better team. Sadly, an uncharacteristic error from goalie Magnus Hellberg cost us dear. Racing off his line to clear the puck, the Swede instead presented it to Vitaly Kravtsov. The Traktor forward needed no second invitation, shooting at an open goal to make it 2-2 midway through the game. Red Star continued to press, helped by a major penalty against the home team's Alexander Sharov early in the third. Sharov was ejected from the game after crunching Nikita Khlystov into the boards; our defenseman did not reappear in the game as he recovered from the blow.

Despite creating the better of the chances in the remainder of the game, Red Star could not find a winner. In the end, that proved costly when the shoot-out came around. Rybakov and Kravtsov scored with their attempts, Cory Kane got one back for us, but when Nick Bailen bettered Hellberg in the final duel, the game was gone.

So, another road trip comes to an end – albeit with a home game – and now the team heads back to China for a 10-game stand on genuine, not merely theoretical, home ice. The run starts Saturday against Admiral.

Official game sheet