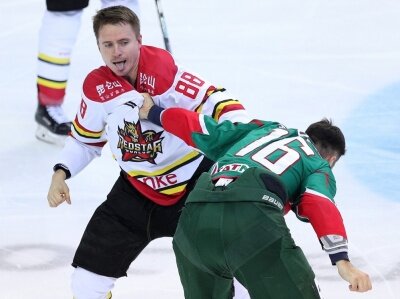 Battling Kunlun edged out in Kazan
Source: Club Press-Office
24.08.2017

Ak Bars Kazan 4 Kunlun Red Star 2

Thursday's game pitted two of the KHL's top coaches against one another with our own Mike Keenan taking on Zinetula Bilyaletdinov of Ak Bars Kazan. And, not surprisingly, the tactical battle was intriguing from start to finish in an encounter where Kunlun made a full contribution to an absorbing clash.

Keenan set Red Star up to frustrate an Ak Bars team playing its first game of the season. From the opening face-off, our guys fought to keep the host on the outside, imposing our hockey on the game and reducing the potent home offense to speculative efforts from long range.

Better still, we grabbed an early goal to pile the pressure onto Ak Bars. Cory Kane, who picked up an assist in our 4-2 win at Sochi, got his first goal in Red Star colors just four minutes into the game. Brandon Yip released Kane in center ice and the American was off to the races to beat Emil Garipov.

It's already evident that our team is imbued with a huge will to win, and Arturs Kulda, our Latvian warrior on defense, showed his determination in a scuffle with Roman Ambrosimov before the first five minutes were up. Both players took five-minute penalties; Ak Bars were reminded once again that this season's Kunlun offers more of a challenge than the roster that slipped to a 2-0 loss in Kazan last time.

Well-drilled defense kept Ak Bars at bay until the 14th minute when Vladimir Tkachyov grabbed an equalizer off an assist from veteran D-man Andrei Markov. But our intensity did not lapse, our determination did not waver; Red Star completed the period was some solid defense to kill a penalty thanks to a great save from Magnus Hellberg and a big block with Geoff Kinrade's stick to deny Alexander Svitov and Jiri Sekac in quick succession.

The game remained hard-hitting in the middle stanza, as the teams traded two more goals. First Alexei Ponikarovsky tipped home a Luke Lockhart shot from the point to reinstate Kunlun's lead, but this time Ak Bars hit back almost immediately to tie the game through Fyodor Malykhin. With Keenan's tactics posing the home team problems, Bilyaletdinov was struggling to get his first line to have an impact – something that he worked to change in the final stanza.

Our guys put in a huge effort throughout the game, but against a team that had enjoyed a rest earlier in the week, the strain began to show in the closing stages. It wasn't until the third period that Ak Bars got ahead, but once Justin Azevedo scored on a delayed penalty midway through the final session, there was no way back for Red Star. The team battled bravely to the end, but got caught out in the closing stages when Azevedo poached a second off an interception to wrap up the win for the home team.

Next up, it's a short trip across Tatarstan to play Neftekhimik on Saturday … and meet up with an old friend, Chad Rau, who is now playing his hockey in Nizhnekamsk.